Reporting from Brisbane, Australia, preparing to open the International Congress on Natural Medicine with my presentation on a Functional Medicine Approach to Psychiatry. I'll follow up wth Natural Approaches to Addiction on Day 3.
I just spent 2 magical days in Byron Bay at the lovely countryside home of  friends — where I could catch up with my work, catch my breath, deal with jet lag, watch the wind in the trees, the happy cows in the meadow below, and listen to the chorus of exotic birds. And be fed an amazing variety of fresh organic vegetable soups, prepared with love, from the freshed most beautiful veggies from the local Farmer's Market, the best I've seen anywhere!. We took a long gorgeous hike through green rollinsg meadows to a vantage point where we could view the ocean below. LOVE Byron Bay and my sweet friends there!
Then visited the stunning new home of my friends, Terry and Tammy Butler, along the water at the Gold Coast where I was also introduced to Dr. Reza Samvat, an all-round genius chio-neuro doc, and energy medicine expert. They updated me on the latest research and progress at Cell-wellbeing.com for quantum epigenetic body/health scan.
From there, I went to meet the amazing Professor Reynolds who has researched novel, life- saving uses of the melaleuca plant extract, for a variety of antibiotic resistant bacterial as well as viral infections. More news on this to follow– I am really excited to share this with patients and colleagues!
So now to my pre-recorded interview for Trudy Scott's Anxiety Summit:
Marijuana and anxiety: Panacea or Pandora's Box?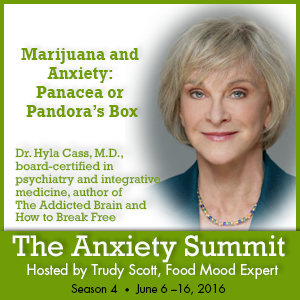 I will be the featured speaker June 11th on Season 4 "The Anxiety Summit"  talking
about  
Marijuana and Cannabidiol. 
I am delighted to be shedding light on this often    confusing topic: there is medical marijuana, recreational pot -smoking, and the marijuana
derivative, cannabidiol or CBD, used for a host of clinical issues from anxiety to seizures.
Then, there's the question, is pot addictive? Some of my topics:
Marijuana: THC and CBD 
Medical marijuana/CBD –benefits for nausea and mood
The risks: schizophrenia, psychosis, cognitive effects and worse anxiety
Toxins in marijuana and smoking dangers
Marijuana addiction and why it's different from 20 years ago
The use of targeted amino acids for breaking the addiction
And I am also offering a free bonus: an Outsmart Your Addiction Quiz, plus savings on my line of brain and energy supplements and on a high quality CBD product!  
See the complete lineup of experts on natural approaches to healing anxiety where you will learn both the science and practical transformational tools you can apply right away.And LOTS OF FREE GIFTS!
You will also have the option to purchase the MP3s and/or transcripts (digital or CD version) of all the interviews if you'd like to keep them for your learning library.  I always do that – and listen over and over again in the car. 

Reminder: Healing Hashimoto's Summit begins June 13th. Over the years I have diagnosed many patients with Hashimoto's Thyroiditis, an autoimmune disease that causes inflammation in the thyroid and a gradual destruction of thyroid tissue by the immune system. Frequently  presenting with anxiety, depression, moodswings and fatigue, it is often just treated at face value with psychotropic medication— and the opportunity for correct treatment and a much improved life are missed! The sooner it is detected, the better your odds of getting good results from treatment. So I'm very excited to be able to share The Healing Hashimoto's Summit with you. The life you save may be your own or that of someone you care about!
Symptoms of Hashimoto's don't often show early, and can take 8-10 years to be detected, but may include:
Adrenal exhaustion • Weight gain • Cold hands and feet • Fatigue • Dry skin • Brittle nails • Bloating
Anxiety • Thinning, brittle hair • Muscle aches • Joint pain • Heavy menstrual periods • Panic attacks
Short term memory loss • Constipation • Depression • Insomnia
The Healing Hashimoto's Summit is online and free from June 13-20, 2016!
Register for FREE at this link today
I'll see you at the Hashimoto's summit
Yours in good health,
Hyla Cass MD
PS: Listen from the comfort of your own home at no cost to you–  from your computer, ipad or smart phone.
PPS: Be sure to share this information with family, friends and colleagues who you think may benefit from this summit. Just click here for Healing Hashimoto's, and here for the Anxiety Summit.